The Incredible Adventures of Van Helsing Review
By Brad Jones 26 November 2015
Having been available on PC and other consoles for some time, The Incredible Adventures of Van Helsing is now available to Xbox One players — and is being offered for free this month via Games with Gold. But does the game offer much to anyone who's familiar with the genre?
The action RPG genre is a stalwart of the video game industry, having evolved considerably over the years, as trends and platforms have changed. Wisely, The Incredible Adventures of Van Helsing adopts a great deal from the classics released on the PC during the 1990s, but there are some new ideas here too.
Pleasingly, the game controls very well. At one time, a mouse and keyboard would have been thought of as essential to this sort of title, but the control scheme the developers at Neocore Games have worked out for a traditional controller works very well.
Players move around with the left stick, with the face buttons being set to whichever abilities they pick as their character progresses. Clicking in the left stick switches Van Helsing between ranged and melee combat modes, which works well even while you're fighting off hordes of supernatural beasts.
It's worth mentioning the enemies, as they're very varied in terms of their styling. Given the otherworldly foes Van Helsing is used to dealing with, there's all manner of weird and wonderful beasties for players to mow down, although it's a little disappointing how many of them are much the same in terms of combat strategy.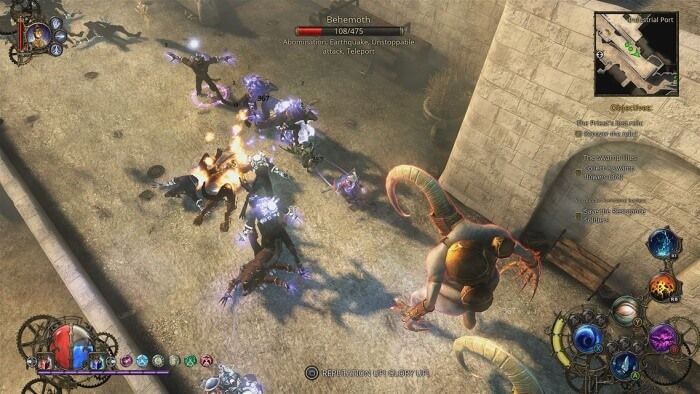 That said, the fighting here is a thoroughly satisfying slice of hack-and-slash action, even if it doesn't have a great amount of depth. Instead, the compelling part of combat is choosing the skills and abilities to unlock, and using them to their full potential when out adventuring.
Once players have spent a bit of time improving their character, there's really quite a lot of different paths they can take in battle. Between ranged and melee combat, Van Helsing's ghostly companion Katerina's assistance, and different classes available as DLC, it's possible to carve out the perfect play style for each players' preferences.
This is one of those games that's more than the some of its parts. The gameplay is solid, the graphics are fine, the music is surprisingly well done — and when the whole package comes together, it's a satisfying experience. It's clear that the developers put a great deal of care into the game. From hidden Fallout references tucked away in a town, to side-quests with stories that draw the player in, to its various UI flourishes and consistently strong presentation – this is a lovingly created experience.
It feels like a game developed for the PC in the 1990s, plucked from time — but that appears to be by design. The biggest audience for this type of gameplay lapped up the classics of the genre released back then, and this will likely be well-received by even the most discerning fan.
The real question is whether the game is best played on the Xbox One. Given that it's missing some content included in the Final Cut version released for the PC, that might not be the case, especially since personal preference might swing towards mouse and keyboard controls. However, the experience isn't diminished by console controls
This game is a throwback, but it's a welcome blast from the past. Anyone present for the golden age of action RPGs will enjoy a heady dose of nostalgia, but this is a great entry point for anyone eager to get into the genre afresh, too.
The Incredible Adventures of Van Helsing likely won't be dragging too many players away from releases like Fallout 4. However, when the release schedule slows down in a few months time, there's likely to be plenty of players who are pleasantly surprised by a trip to Borgovia.
Trailer
The Incredible Adventures of Van Helsing is available now for Xbox One. Game Rant was provided an Xbox One code for this review.