The 5 Best Indie Games of 2015
By Dalton Cooper 26 December 2015
Game Rant looks back at the five best indie games released in 2015, which includes the likes of Ori and the Blind Forest, Rocket League, Undertale, and more!
Despite having significantly smaller budgets and studios than the AAA titles that often dominate the headlines, some of the best games that released in 2015 were games created by teams of just a handful of people. In fact, 2015 saw some of the most groundbreaking indie games released to date, with the five games listed here representing the best indie gaming had to offer this past year.
Crypt of the NecroDancer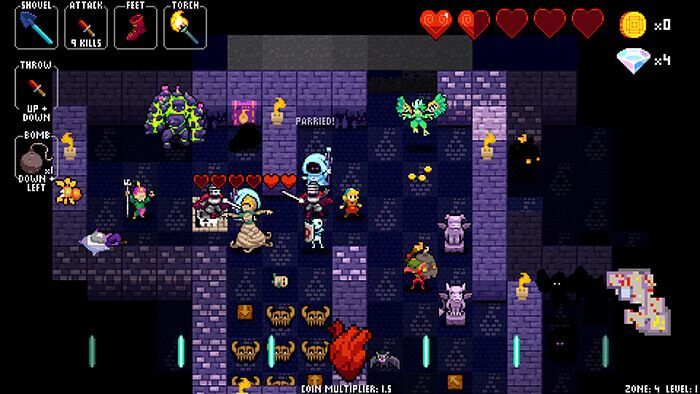 The first game on our list is Crypt of the NecroDancer, a game that features a retro visual style and familiar roguelike gameplay, but mixes things up with how it blends music into the experience. Driving the music theme home, players are able to control protagonist Cadence in the search for her missing father using a dance pad if they so wish, alongside traditional controller input options. Crypt of the NecroDancer released to critical acclaim in 2015, and is proof positive that Ryan Clark's idea of combining the music/rhythm genre with a roguelike RPG is a winning formula.
Her Story
One of the most unique indie games that released in 2015, Her Story is a spellbinding interactive movie from developer Sam Barlow. Barlow was inspired to create Her Story after being disappointed with games like L.A. Noire and Phoenix Wright: Ace Attorney, two titles that tackled similar themes of interviewing people to solve a criminal case. This made the game a passion project for Barlow, and his efforts were rewarded, with Her Story recognized at The Game Awards in December, winning awards for Best Narrative and Best Performance.
Ori and the Blind Forest
Created as a collaborative effort between developers located all over the world, Ori and the Blind Forest is one of 2015's most critically praised games, and for good reason. Boasting a gorgeous 2D art style and Metroidvania-style gameplay, all the hard work from Moon Studios seems to have paid off, with Ori becoming profitable just one week after release. With such an impressive first outing, the gaming world will be watching intently to see what the studio manages to cook up for their sophomore effort.
Rocket League
Not even developer Psyonix Games could have seen the massive success of Rocket League coming. The highly improved sequel to the aptly titled Supersonic Acrobatic Rocket-Powered Battle Cars, Rocket League became a phenomenon this past summer when it debuted as a free game on Sony's PlayStation Plus service. Thanks to consistent post-launch support by Psyonix, Rocket League has managed to maintain its popularity, reportedly earning a whopping $50 million on a $2 million budget. And with the game coming to Xbox One next year, Rocket League is prepped to continue its success in 2016.
Undertale
Undertale, developed by the two person team of Toby Fox and Temmie Chang, now stands as one of the most critically acclaimed indie games of all time. The game holds an incredibly impressive 93.30% review aggregate rating, and was even voted as the Best Game Ever on GameFAQs, defeating heavy hitters like The Legend of Zelda: Ocarina of Time and Final Fantasy 7 in the process. Celebrated for its engrossing story, well-written characters, and unique combat system, Undertale is easily one of the best indie games of 2015, and furthermore, it could be remembered as one of the best indie games ever made.
From Crypt of the NecroDancer to Undertale, 2015 was a banner year for indie games. 2016 will hopefully see indie gaming continue to succeed, and so far, things are looking very promising. The full release of Ark: Survival Evolved, an indie game with breathtaking scope, is due for next summer, and the classic cartoon throwback Cuphead continues to impress as well. Luckily for fans of indie games, 2015 has plenty of high quality releases to hold them over until next year's titles release.
Do you agree with our list? Would you rather have seen other hit 2015 indie games like Dropsy, Hotline Miami 2: Wrong Number, or Lovers in a Dangerous Spacetime make the list instead? Which indie games were your favorites in 2015? Sound off in the comments below and give us your thoughts on the best indie games that 2015 had to offer.