Rocket League Hits Xbox One Next Week
By Brad Jones 26 January 2016
Psyonix announces that the much-anticipated Xbox One launch of Rocket League is scheduled for next week, and details the free DLC extras set to be bundled in with the release.
Plenty of Xbox One owners were excited to hear the news that Rocket League was coming to their console of choice when it was announced late last year. Now, the game's developer, Psyonix, has confirmed that the hugely popular title will finally release for Microsoft's system next week.
First released for PlayStation 4 and PC last summer, Rocket League is a multiplayer-centric title that puts a unique spin on the game of soccer. In it, players are placed in rocket-powered vehicles and let loose as teams on a standard pitch that's surrounded be tall barricades.
From here on out, gameplay consists of using the abilities offered up by the vehicles at hand. They're capable of jumping into mid-air to receive a lofted ball, or gaining a significant speed boost by driving over one of the special zones dotted around the field of play.
Players can duke it out one-on-one, but Rocket League is perhaps at its best when teams of four are facing off against one another, producing a potent blend of teamwork and pure chaos. Unfortunately, the Xbox One version will not feature the cross-platform play offered in the game's prior releases.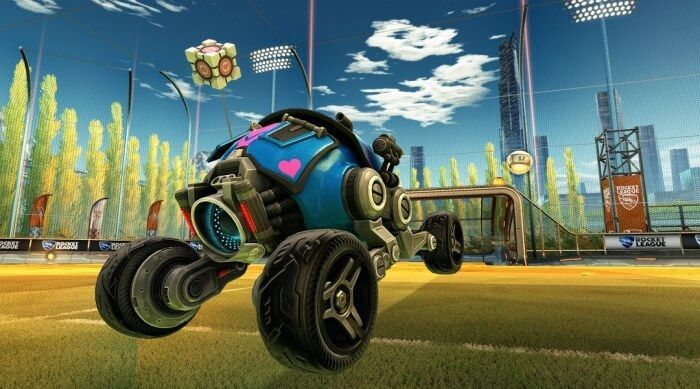 However, the newest version of the game is being decked out with some console-specific content to make up for that fact. Some of the franchises that define the Xbox experience are set to be represented in-game with exclusive customization options and brand new vehicles to choose from.
Both Halo and Gears of War will be represented with vehicles based on the Warthog and the Armadillo respectively. Meanwhile, items offered up in the game's Garage to customize these rides will include some extras inspired by underrated Xbox One exclusive Sunset Overdrive.
This release of the game will also include three DLC packs previously released for other systems. Supersonic Fury, Revenge of the Battle-Cars and Chaos Run will add a total of six premium Battle-Cars and a huge amount of decals, wheels and other components that players can use to trick out their vehicle.
All this content comes at the bargain price of $19.99 when the game launches next Wednesday. Rocket League has already proven to be a huge hit on other platforms, so it seems likely that Xbox One owners will be similarly eager to build up a thriving community around the game.
Rocket League is set to release for Xbox One on February 17. The game is already available on PlayStation 4 and PC.
Source: IGN